Receiving numerous film awards internationally, the film "Walang Take Two" will now be available on VIMEO.COM starting September 7, 2017.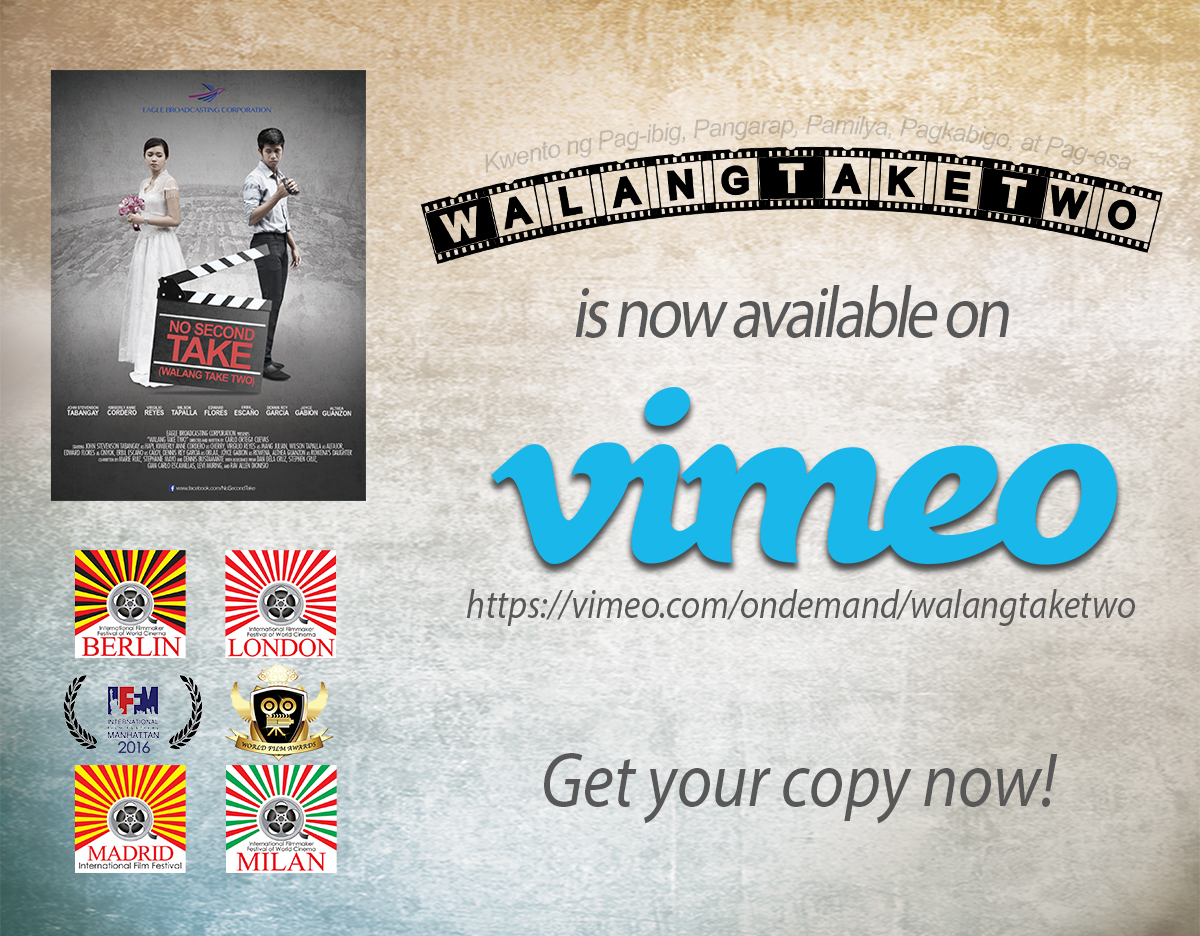 "Walang Take Two" is written and directed by first-time film-maker Carlo Ortega Cuevas and was released in Philippine cinemas in September 2015.
(Eagle News) — Starting Thursday, September 7, the multi-awarded independent film, "Walang Take Two" (No Second Take), produced by the Iglesia Ni Cristo (Church Of Christ) will be available on vimeo.com.
The film had won the much coveted "Jury Award," as well as the "Best Lead Actress in a Foreign Language Film" plum, at the Berlin International Filmmakers' Festival last year.
It also won the "Best Ensemble Acting" at the International Film Festival in Manhattan held in New York in October last year.
"Walang Take Two" garnered awards from various prestigious international film festivals, starting February 2016 when it won the best director in a foreign film" award at the International Filmmaker Festival of World Cinema in London for film director Carlo Jay Ortega Cuevas.
This was followed by the "best film" and "best cinematography in a foreign language film" awards that it received from the 2016 Madrid International Film Festival.
It had also won two major awards from the World Film Awards in Jakarta –the "Platinum World Award" and the "World Newcomer Filmmaker of the Year." It also won the grand prize in the online-based "Fanboy Film Festival," getting a total of 9,500 votes as the best feature film.
At the Berlin International Filmmakers' Festival, INCinema's "Walang Take Two" was the only film entry from the Philippines to be nominated in the prestigious Jury Awards.
INCinema, under which the film was produced, was a project envisioned and proposed by the INC Executive Minister, Brother Eduardo V. Manalo. Its main mission is to develop or create quality productions that will be an alternative media which primarily promote Christian values. It also aims to inspire the INC brethren – in the Philippines and abroad — to hone their artistic gifts in visual and performing arts, such as acting, directing, scriptwriting, video editing, among others.
The cast and crew of "Walang Take Two" is composed of previous winners in the annual Excellence in Visual Media (EVM) Awards of INCinema.
(Eagle News Service)